Hi Codeforces!
Yes, I know it's already April. Time flies so fast lately! Exactly a year ago we were just learning all the "delights" of lockdown.
So let's remember this 2020! What was it like? I don't know about you, but we had a hell of a lot of work.
I will now show you some graphs and you will be very surprised. Lockdown effect? Of course, but we did our best too.
Many thanks to everyone who did not stand aside! In 2020, we celebrated our 10th anniversary and crowdfunding money helps us grow and move forward. You helped us and each other. Thank you. Thank you for your contribution!
We've been working hard all year to make this community a better place. Did it work out? It's up to you to judge. Many thanks to everyone who invested time and effort:
Time to take stock of 2020.
Partner Events
We are pleased to hold programming competitions with companies or for companies. I'm sure this is a great way to support the community of young programmers and hire talented candidates. Here is a list of our main partners this year:
Telegram and personally Pavel Durov is supporting Codeforces activities for many years, every regular round is held with their help, thank you!
ICPC — in 2020 we held several joint events (and we liked it!), I hope there will be more
Mail.Ru — Technocup and Russian AI Cup
VK, VK Cup — now a personal multi-track competition for Russian-speaking programmers
XTX Markets, Codeforces Global Rounds — a series of 6 rounds with a separate scoring and souvenirs for the best participants
Harbour.Space University — a series of educational rounds, the selection of summer school Tech Scouts
JetBrains, Kotlin Heroes Rounds — Kotlin programming language contests
Huawei — research competitions (marathons) with elements of machine learning
Raiffeisenbank — round for both divisions with cool prizes
Grakn Labs — round for both divisions with money prizes
Microsoft, Microsoft Q # Coding Contest — unusual quantum computing competition #### Major innovations
Work on improvements in Codeforces and Polygon never stops. Much of the work to improve the infrastructure, stability, performance is not evident. Month ago I already published the post with a list of major innovations. Did you read it? If not, then drop everything and read it urgently!
Statistics, analytics and charts
Of course, I understand that covid has contributed to last year's growth. I officially declare: covid, go away! We don't need you. Let in 2021 we will not have such an influx of users, we will somehow survive. Bye Bye!
But be that as it may, in 2020 there was an increase in interest to Codeforces, which has never been before.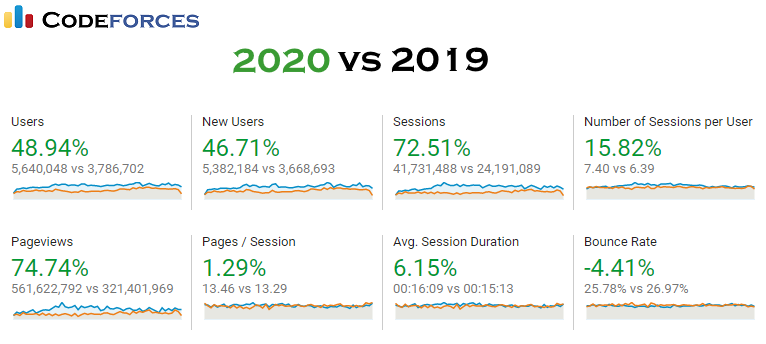 Dear Santa Claus, give me such a picture sometime again.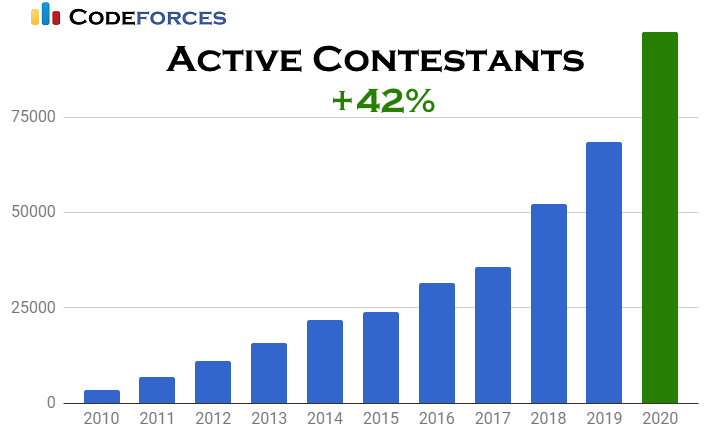 This is a sweet word. Plus 42 percent! No, these are three sweet words.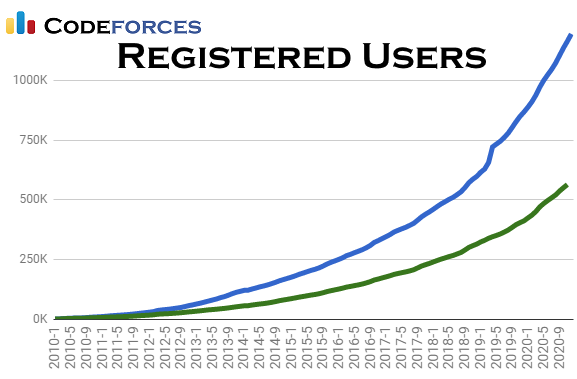 The upper line takes into account users who have verified an email. The lower line takes into account those who have at least one solved problem. A hockey stick is the dream of any startup! And if you just take into account all accounts (including accounts in groups), then there are already almost 2 million of us!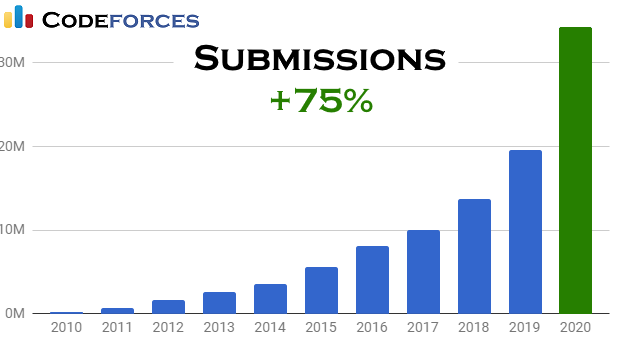 Nearly 35 million attempts have been submitted in 2020, +75% from last year! Now it is clear that we constantly have to improve servers and infrastructure.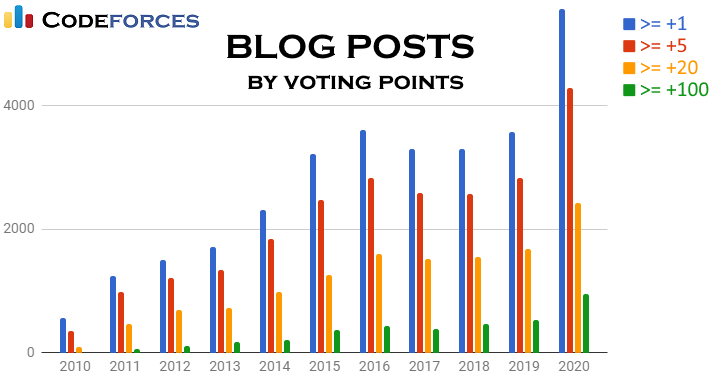 Blog posts with a positive scores, having at least +5 votes, having at least +20 votes, having at least +100 votes. The total number of posts is not interesting, because a lot of trash/spam, which immediately disappears and the result much depends on how we protect against bots and inadequate users. Very large growth. For posts with +100 more than 75%!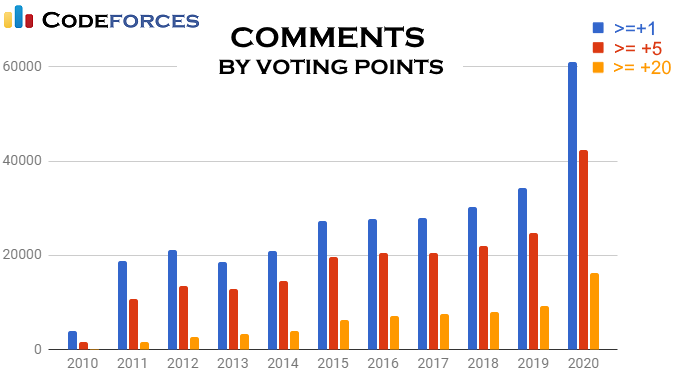 All positive scored comments, having at least +5 votes, having at least +20 votes. Growth is more than 70%.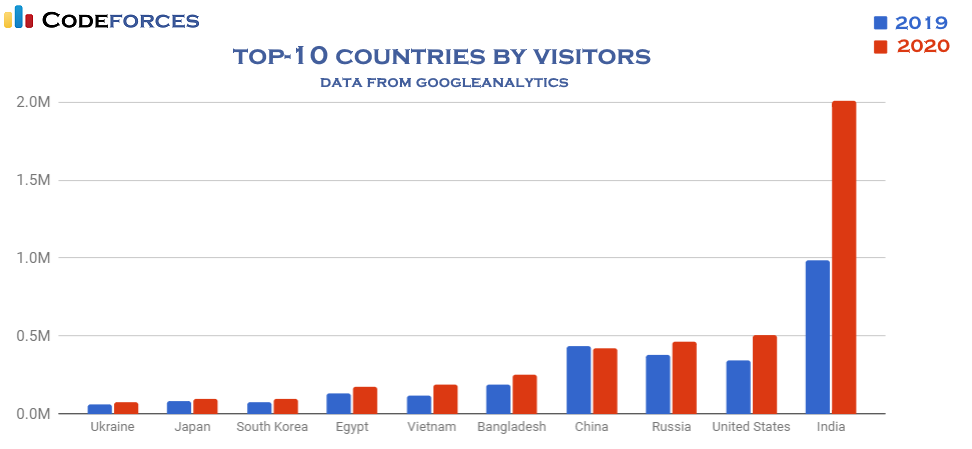 India is increasing its lead, but the United States has taken the second place this year!
What is very important — there are no fewer rounds and tasks. It's not easy to keep this pace, but we are trying!
Sweet for dessert. This is the first time I publish such statistics for Polygon.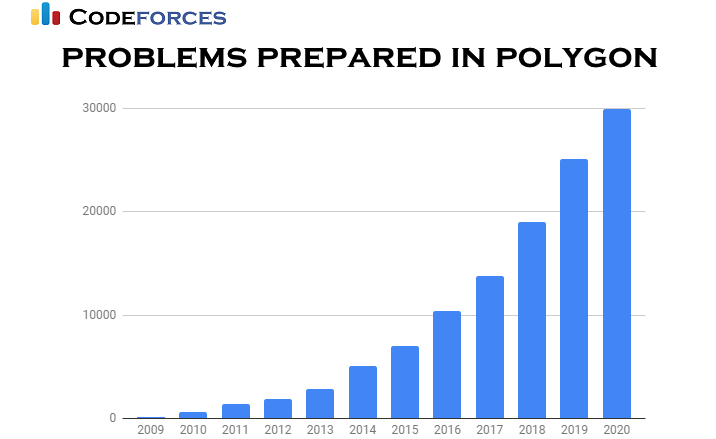 Only problems with packages are counted.
Let's continue to make our community better together!