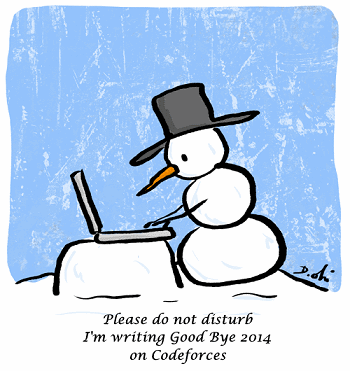 Hello 2015! Hello Codeforces!
It seems it is time to take stock. Frankly, I was almost feared to start summing statistics of 2014. In 2013 Codeforces showed rapid growth so that it would not be surprising to look bad on the background of 2013. Certainly not! I was pleasantly surprised by the statistics and reports!
Just below is a list of major events and achievements of Codeforces over the year. For you, it's just a list, but please note — every item includes hard work of multi-day Codeforces team, writers of problems, the organizers of contests and tournaments, problem testers and volunteers. Yay! Together we have done all of this:
introduced Codeforces API
added (and sometimes improved) all Andrew andrewzta Stankevich contests
Codeforces supported mode to work as iframe-widget, and Codeforces helped Google to run https://www.calltocode.ie/ for Ireland high school children
nearly 70 rounds have been hosted for our beloved users
nearly 450 new and interesting problems were prepared for the contests on the Codeforces platform
supported new programming languages
together with CROC was held Coder-Strike 2014
hosted April Fools Day Contest 2014 from magnificent Maria Nickolas Mykhailova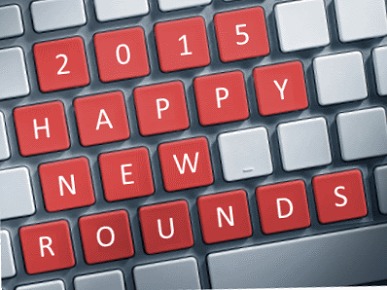 together with the jury of Russian Code Cup 2014 held RCC Warmup, who opened the RCC for a wide range of Codeforces users
Codeforces played a role of press-partner of RCC, ACM-ICPC Finals in Ekaterinburg, Yandex.Algorithm
we held ZeptoLab Code Rush 2014 (Om Nomes!)
helped wonderful company RocketFuel to run Rockethon 2014 (on Codeforces)
hosted MemSQL Start [c] UP 2.0 with the finals the MemSQL office!
had 11 episodes of Codeforces Trainings Season 02
together with the jury Bayan Contest held Bayan Contest Warm Up
updated Polygon (http://polygon.codeforces.com/) introducing an infinite number of small improvements
supported tutorial in Polygon
file system queries caching in Polygon has led to significant acceleration of most pages
together with GridDynamics held GridGames (for Saratov university students)
broke all records: 6274 registrations on Good Bye 2014!
In this cold January day, I send warm greetings to the Codeforces team and our friends: developers, problem coordinators, problem writers, testers, tireless bloggers and all of you — the knowledge-hungry competitors!
And here is a comparison with previous years of Codeforces. Clearly. In Pictures.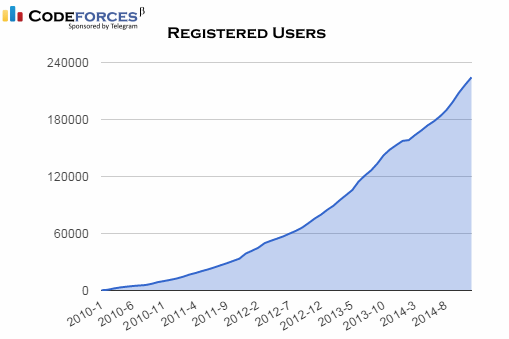 Number of registered users (we've introduced captcha — it didn't affect growth much)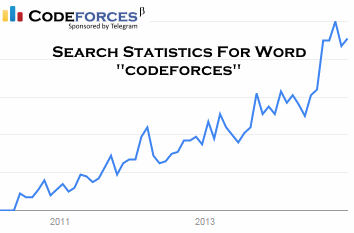 Searches of codeforces in Internet (trends.google.com)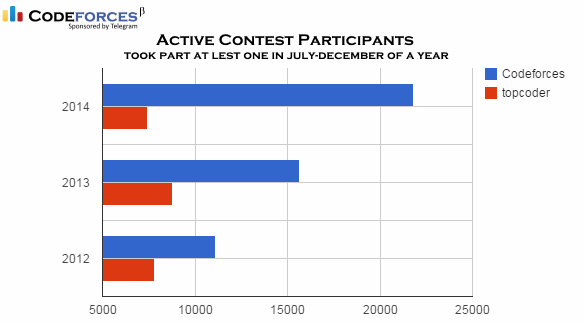 Active contestants (took part at least once in July-December of a year)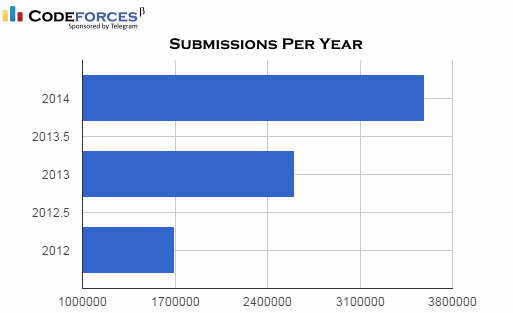 Number of submissions (attempts)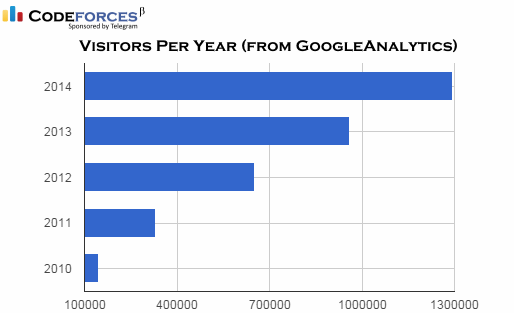 Number of unique visitors (from GoogleAnalytics)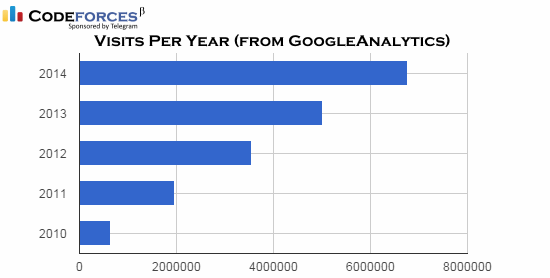 Number of visits (sessions) (from GoogleAnalytics)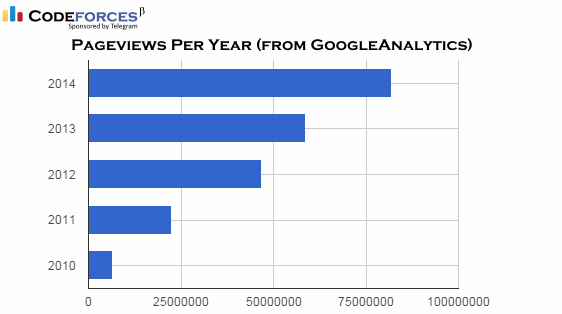 Number of pageviews (from GoogleAnalytics)
P.S. Even I was surprised by statistics of 2014. There is a selfie in the moment when Good Bye 2014 registration ends.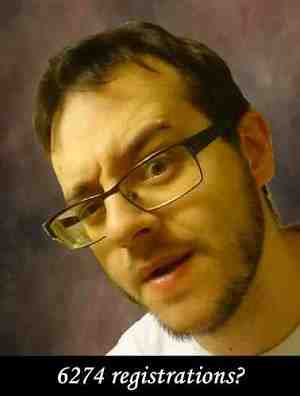 Happy New Year!