Today Saratov delegation will go to the championship's finals. As you remember, we've been planning to go to Sharm El-Sheikh since January, watching their great February revolution anxiously. As a result, the finals were moved to Orlando (Florida, USA). Our delegation got a little smaller too, as May is a hot month and it's a long way from Russia to the USA.
Our team is famous on Codeforces. And that's not surprising! Just look at them: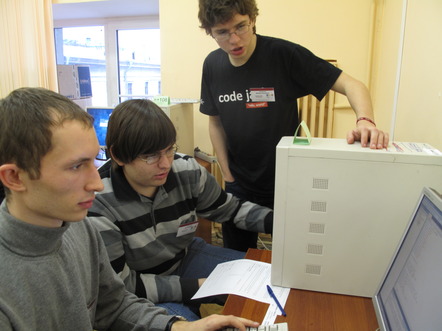 Maxim Ivanov (e-maxx) spends considerable time among the top rated users and among the top contributors. Many know his wonderful site http://e-maxx.ru/, of course. Attentive users recognize him as a determined bug filer in gcc issue tracker and an author of some contests. Maxim is on the fifth year in SSU Mechanics and Mathematics Department and his interests include "programming, programming and... oh yeah, programming :), zen, taoism, philosophy, psychology, the bike".
Artem Rakhov (RAD) is known as the Codeforces problems' coordinator, the participant of all on-site prestigious competitions (TopCoder Open, Google Code Jam, Faceboook Hacker Cup) and a great Cola fan. Personally, I've known Artem since the eight year at school and I shudder to think how many problems he has solved since then :)
Nikolay Kuznetsov (NALP) is known as the author of several rounds and the one who fights ardently for clear statements. He used to be in one team with Artem back at school days. I remember how surprised I was when I learned that he got to TopCoder High School Competition. Nikolay is a third-year student of the Department of Computer Science and Informational Technologies of SSU and he is my student. On July, 10 I exam him on the theoretical course in Programming Methods. By the way, Kolya, let me remind you that you haven't yet got the pass for the practical work!
Besides, the team has me as the coach and Antonina Fedorova as the team leader.
I will do my best to keep you up to date on how the trip's going (mostly on the actual finals, of course). However:

I urge the participants of the event not to keep their interesting impressions hidden and bottled up. I want you to share them. For example, you can publish them on Codeforces!
As a conclusion to the entry, I want to ask a question to those who have already planned the whole trip. As far as I understand, the couple of days before the finals in Orlando won't be spent uselessly: there are some grand amusement parks around. I've got a question to those who are prepared and to those who are keen on that: which place will be most interesting for the ACM-ICPC team? As far as I understand, the tickets to those parks are not exactly cheap, but in one can get a discount now and then - how should we purchase the tickets?
Just in case I inform the Saratov residents that we leave today, on May 23, on train 9.
---
Packing his bag, Mike Mirzayanov