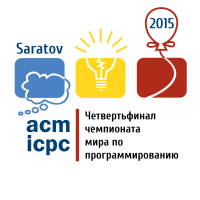 You may print PDF-statements: http://assets.codeforces.com/statements/589.pdf
Recently 2015-2016 ACM-ICPC, NEERC, Southern Subregional Contest has been finished. On behalf of jury and hosts I congratulate winners and advancers to the semifinals. Prize places are (horray!):
1 place: Nizhny Novgorod State University #1 (Vladislav vepifanov Epifanov, Nikolay KAN Kalinin, Mikhail mike_live Krivonosov)
2 place: Innopolis University #1 (Evgeniy savinov Savinov, Sergey sokian Kiyan, Alexander map Mashrabov)
3 place: Saratov State University #1 (Edvard homo_sapiens Davtyan, Vitaliy kuviman Kudasov, Danil dans Sagunov)
On Saturday (October, 17) в 08:00 (UTC) we will host unofficial online mirror. Interesting problems are waiting for you. Judges tried to prepare problems of wide difficulty range: for newcomers and for expirienced teams. This will be a team/personal contest on Codeforces, with teams consisting of up to three people or individual participants. The contest will not affect Codeforces ratings.
For sure, it will be unrated contest. We recommend you to take part in teams. I think, the contest will be moved to Gym later.
Good luck!
MikeMirzayanov, head of judges.
P.S. We are aware that this mirror will overlap with some other online tournaments, but unfortunately we are unable to change the current time slot, due to the online mirror of the Moscow Subregional of NEERC scheduled on Sunday. All school teams are recommended to pay attention to Online-mirror of the Ural regional team championship.