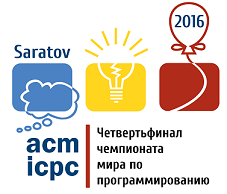 Today 2016-2017 ACM-ICPC, NEERC, Southern Subregional Contest will be held. On behalf of jury and hosts I wish teams to make happy their coaches!
You can watch the results by the link https://contest.sgu.ru/monitor/1.
And on Sunday (October, 23) on 08:00 (UTC) we will host unofficial online mirror. Interesting problems are waiting for you. Judges tried to prepare problems of wide difficulty range: for newcomers and for expirienced teams. This will be a team/personal contest on Codeforces, with teams consisting of up to three people or individual participants. The contest will not affect Codeforces ratings.
For sure, it will be unrated contest. We recommend you to take part in teams. I think, the contest will be moved to Gym later.
Good luck!
MikeMirzayanov, head of judges.