Hello! Do you feel the breath of New Year?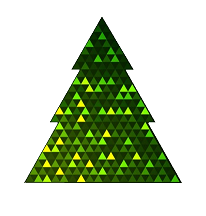 The clock shows a day before New Year, so it is time to sum up the past. I do not have speech-writers for words in the style of "what recently seemed almost impossible, it becomes a fact of life" so I'll be short. Thank you all! Your unfading interest and constant help inspire Codeforces team for new achievements! Brilliant writers, invisible soldiers: testers, tireless and greedy for knowledge participants — all of you help Codeforces do better!
I've dug into the records and made a partial list of the most notable major improvements of 2013. Some large improvements of our infrastructure are not in the list, as the community can not see them directly.
A simple way to add contest from Polygon to Codeforces::Gym.
Drafts embedded in text form fields in Codeforces and Polygon.
Multiple interface improvements in the contest area.
Many improvements of Testlib.
Notably improved performance of Polygon on large manual tests.
Repeatedly updated compiler versions to the nearly latest.
Supported languages: MS C#, Python 3, Go, JavaScript V8.
Updated Codeforces testing servers.
Polygon supported HTTPS.
Organized the first season of weekly Codeforces trainings 12 episodes.
Supported organizations in the profile and rating of organizations.
Added numerous contests to Codeforces::Gym. Probably the most valuable — a large number of Andrew Stankevich Сontests.
Implemented checker and validator tests in Polygon.
Implemented macro language support in test scripts in Polygon.
Groups on Codeforces have appeared, they can contain contests and blogs.
Introduced Mashup Contests — special contests for personal and group training, can be easily composed by problems from rounds or from Polygon.
In addition, in 2013 we not only hosted 64 classical Codeforces rounds, but hosted some tournaments:
Also we took a role of ACM-ICPC 2013 World Finals Press Partner!
And as the detective story can not be without a chase, and the annual report can be do without the fun pictures. Here is a series of images showing the growth of Codeforces: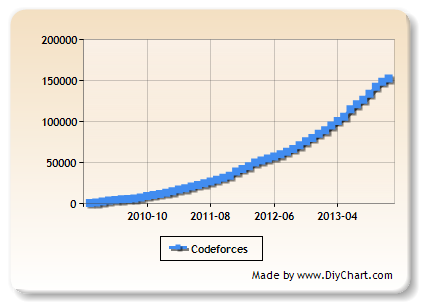 Registrations on Codeforces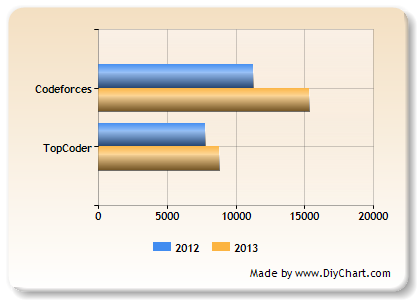 Active contestants compared with TopCoder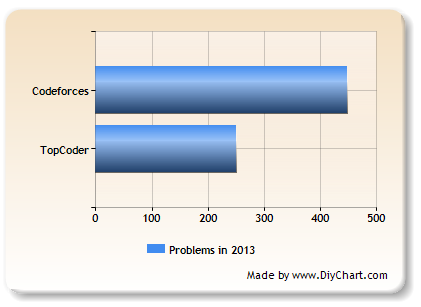 New problems for rounds and tournaments in 2013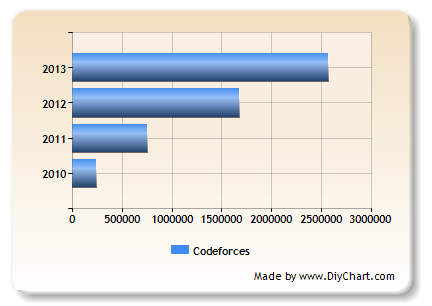 Submissions per year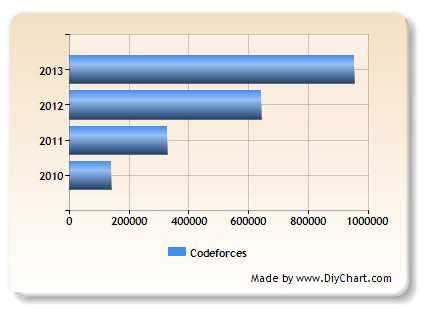 Unique visitors growth (from Google Analytics)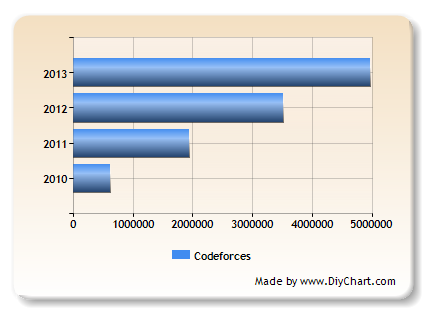 Visits growth (from Google Analytics)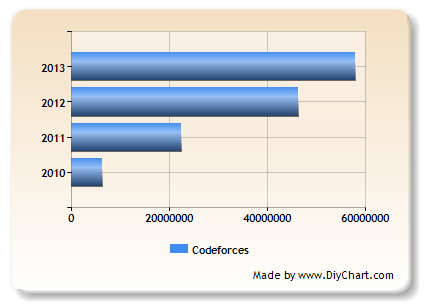 Pageviews growth (from Google Analytics)
That's all, runaway to decorate a New Year tree!
Mike Mirzayanov