Hi Codeforces!
The platform recently turned 10 years old. We accept your congratulations at https://codeforces.com/10years. Please review the progress in 2019 and support the anniversary crowdfunding campaign. Your donation will be a contribution to the future of Codeforces, will help its development and work. We need resources to continue to host rounds, not to stop developing, to innovate and to maintain the existing infrastructure.
In 2019, together with numerous writers the coordinators worked on problems: KAN, 300iq, cdkrot, arsijo and recently joined isaf27. And this year, rounds coordinated by other experienced members of our community can be expected. Intrigued?
The main innovations in the platform are implemented by me and the developers: kuviman, cannor147 and geranazavr555. Una_Shem provided great organizational assistance. Thanks!
I send special rays of gratitude to problem writers and testers! This year we have had more rounds than ever before!
Time to take stock of 2019.
Partner Events
We are pleased to hold programming competitions with companies or for companies. I'm sure this is a great way to support the community of young programmers and hire talented candidates. Here is a list of our main partners this year:
Telegram and personally Pavel Durov is supporting Codeforces activities for many years, every regular round is held with their help, thank you!
Mail.Ru — Technocup and Russian AI Cup
VK, VK Cup — now a personal multi-track competition for Russian-speaking programmers
XTX Markets, Codeforces Global Rounds — a series of 6 rounds with a separate scoring and souvenirs for the best participants
Harbour.Space University — a series of educational rounds, the selection of summer school Tech Scouts
JetBrains, Kotlin Heroes Rounds — Kotlin programming language contests
Huawei — research competition (marathon) with elements of machine learning
Forethought, Forethought Future Cup — a two-level competition with the Final at Forethought headquarters (San Francisco) and the mirror contest for worldwide participants
Dasha.AI, Dasha Code Championship — a two-level competition with the Final at St. Peterburg and Novosibirsk (and the mirror contest for worldwide participants)
VeeRoute — research competition (marathon)
Microsoft, Microsoft Q # Coding Contest — unusual quantum computing competition #### Major innovations
Work on improvements in Codeforces and Polygon never stops. Much of the work to improve the infrastructure, stability, performance is not evident. The list below lists the main points for noticeable improvements.
Multiple improvements and fixes
Two-factor authentication support,
API enhancements
Partial support for problems with special resources (graders)
Many improvements in issue tracking
Improved typography checking in statements (quotes, etc.)
Contests search
Contest groups basic support
Contest and problem PINs
Scale support for images
Codeforces
New user self-registration in domain groups
MathJax support in posts and comments
Spectator ranklists
Improved IOI mode support
Changes to support multi-site groups (to host Russian Olympiad in Informatics Regional Stage)
The problem proposals subsystem has been improved
"I trust this user" checkbox
Multiple improvements for contest managers
Cowriters support for blog posts
"interactive" problem tag (auto-setup)
Setting in the profile to hide social network widgets
Special notes for programming languages (e.g. recommend PyPy)
Improved diagnostics for C ++ solutions
Uphacking (unofficial hacks after any round)
Improvements of micro (m1, m2, m3) websites
The feature to specify allowed programming languages in mashups
Now mashup managers can skip/ignore/reject solutions manually
Window contest (start contest in a time range, for VK Cup)
Blacklists and other improvements in usertalks
Статистика
The results for this year were very surprising and pleased me at the same time! This year, again, an increase was obtained in all major metrics (from 15% to 45%). Just look at these numbers!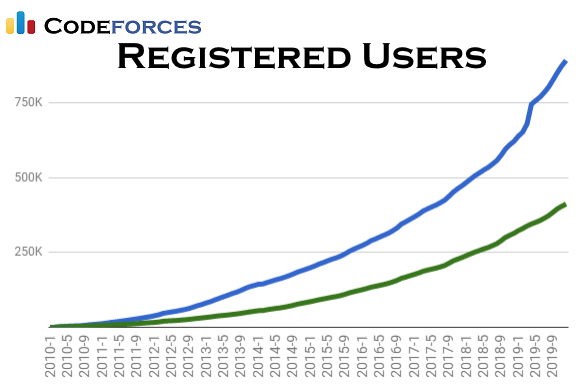 The upper line takes into account users who have verified an email. The lower line takes into account those who have at least one solved problem. A hockey stick is the dream of any startup!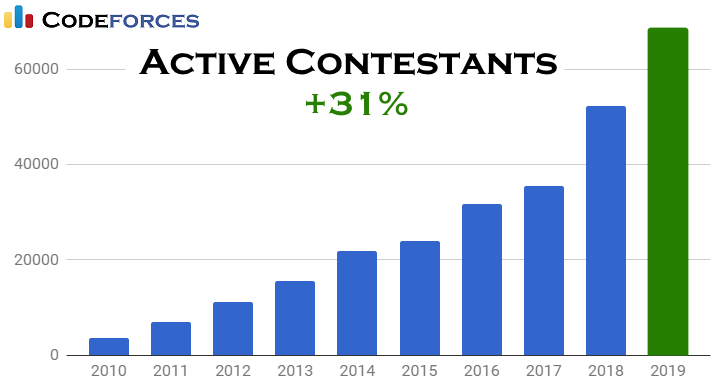 Only those who participated in rating rounds during July-December are counted. Almost plus a third! How do you like that, Elon Musk?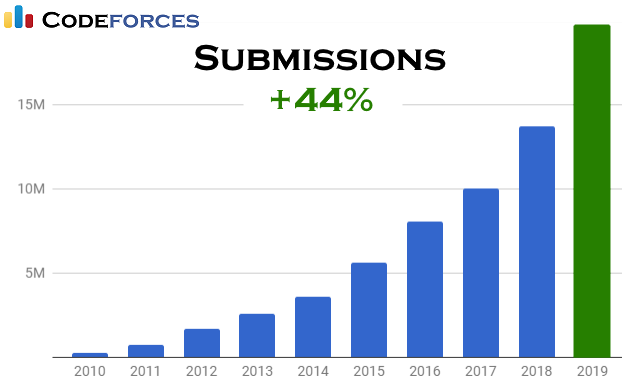 Nearly 20 million submissions judged, +44% from last year!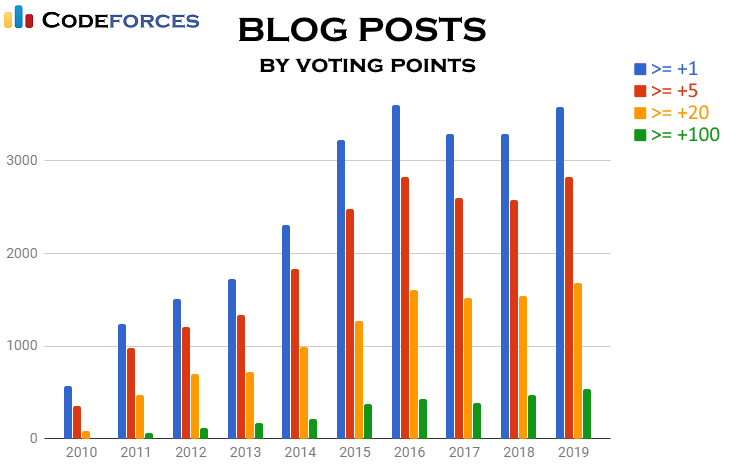 Blog posts with positive score, having at least +5 votes, having at least +20 votes, having at least +100 votes. The total number of posts is not interesting, because a lot of trash/spam, which immediately disappears and the result much depends on how we protect against bots and inadequate users. Slightly increased compared to last year. Unfortunately, growth lags behind audience growth.
All positive scored comments, having at least +5 votes, having at least +20 votes. Growth is present, more than a year ago. This makes me happy!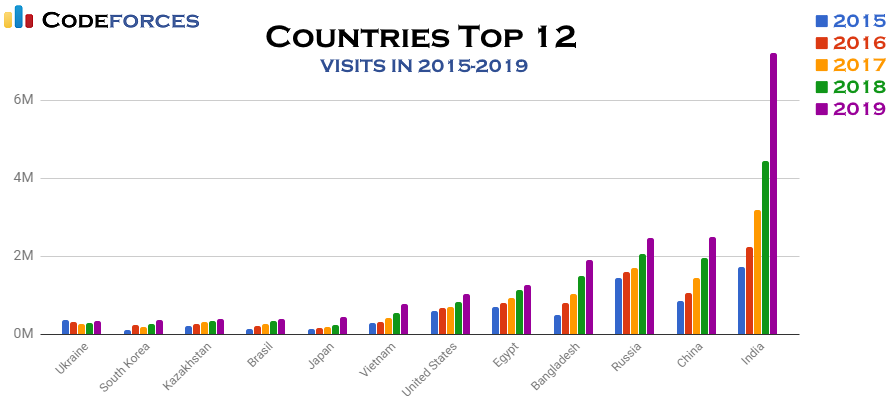 India is ahead of the rest! Russia rolled back to 3rd place, losing 2nd place to China. Japan soared from the 15th to the 8th place. Iran lost ground, and South Korea showed a notable increase.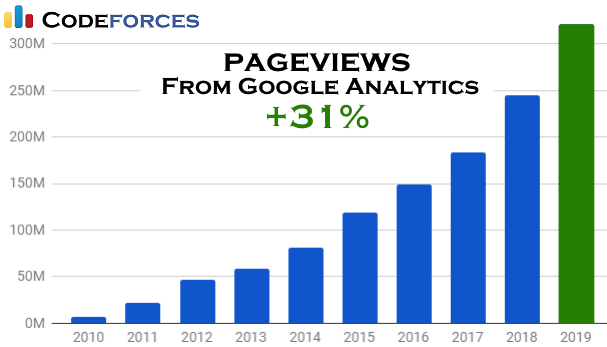 The number of page views, +31% in 2019!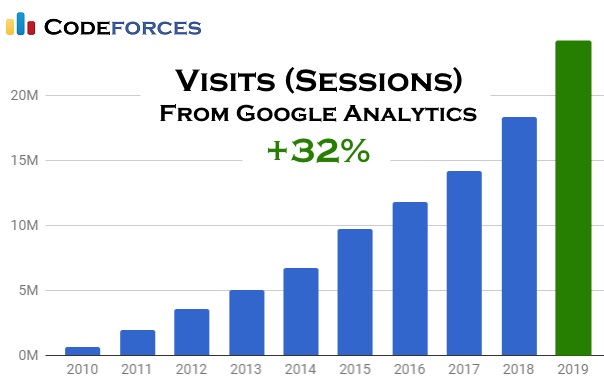 The number of visits (browser sessions), +32% in 2019!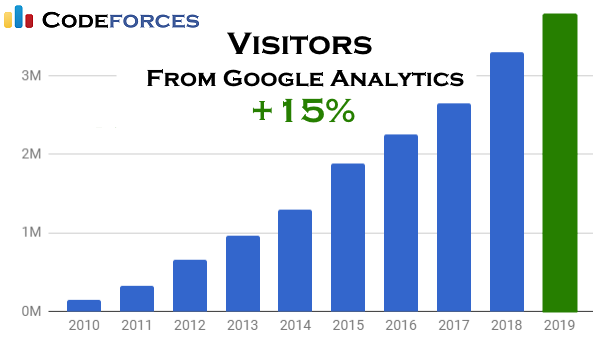 The number of visitors, +15% in 2019!
They were not included in the pictures, but there is a noticeable increase in the number of hosted rounds (+10 more) and the number of new problems (739 → 847, and this is only in the rating rounds). Numbers are given in comparison between 2018 and 2019.
I am pleased and proud of the results of Codeforces for 2019. The entire Codeforces team will try to please you in 2020 too!