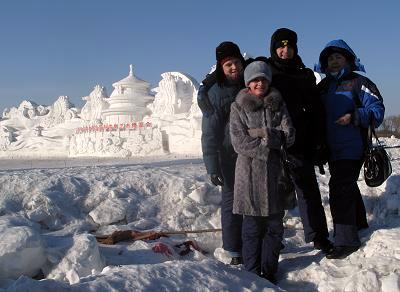 The second day we spent sightseeing - we went to the excursions organized by the host country, some places we visited on our own.
In the morning we had some free time, and we went to the local Arbat (or Kirov Avenue, as you wish). Actually, when we walked not far away from the hotel, we found out that we vaguely knew how to get back. But still we didn't want to go back, that's why we went on moving away, guided by little information we had. It was really cold - but we were well-prepared. I put on a down-filled coat, that we'd got on the first day, over my proper one, foe example. Vova put on the presented trousers over his own jeans, and seemed happy. The parts that got cold were our faces.
On our way to that avenue we asked for the directions many times. The problem was that we didn't remember its name. 80% of passers-by said they didn't speak English, 20% said they did, but it was the only thing they could say in English. Finally, using the international language of gestures, we got the direction and found the avenue. Personally I was disappointed, there was nothing to look at there. Of course, it was interesting to walk past old buildings, but we had no desire to "Russian goods" shops. They sold home-made vodka, chocolate called "Russian fir (pets)" (they meant "pelts"), and other goods of doubtful quality.